Welcome to The Saga of TPP!
Edit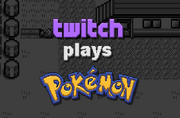 The Saga of TwitchPlaysPokemon. Where we log this incredible event as it happens for posterity.
ATTENTION WRITERS: If you fancy yourself a wordsmith please contact me via Reddit message and I'd love to help you promote your work, and give you the tools you need to contribute to this wiki without fear of your work being tampered with.
POTENTIAL MODERATORS: As above, contact me in Reddit (JohnnyHavok2) and we will sort some things out. Let's make this great!
Current Projects
Edit
Adding a page for each Character
Adding content to the Character pages
Adding a page for each Theology
Adding content for each Theology

Visit the Character and Theologies pages to see what's been linked so far!
Latest activity
Edit
Photos and videos are a great way to add visuals to your wiki. Find videos about your topic by exploring Wikia's Video Library.